the British Society for the History of Radiology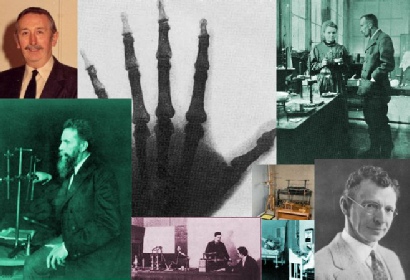 NEW BOOK REVIEWS
An Interventional Radiology Odyssey: The Story of my Life and Work
by Josef Rosch
Springer 2016 pp103
Louis Harold Gray: a founding father of radiobiology by S Wynchank.
Springer 2017 pages 137
Click BOOKS
THE ORAL HISTORY SOCIETY
BSHR has recently joined the Oral History Society as a group member. It gives us access to their Journal and services. Take a look at their website for details.
If you wish to look at the Journal you will need our group username and password. Members can obtain these from the Secretary. Email info.bshr@gmail.com
NEW
Bibliography and Reading List in Radiology History — pdf
Scientists are Putting the X-factor back in X-rays
Click here for this article in Popular Science with contributions from Arpan Banerjee
Report of the British Society for the History of Radiology 2018 annual lecture on 'Edith and Florence Stoney pioneering sisters in Radiology'
By
Dr Arpan K Banerjee Past Chair British Society for History of Radiology
The 2018 annual lecture of the BSHR was held on the evening of 19 Feb 2018 in the Governor's Hall of St Thomas's Hospital. The title was 'Edith and Florence Stoney pioneering sisters in Radiology'. The talk was a double act delivered by the distinguished radiology historians Prof Francis Duck and Prof Adrian Thomas the former concentrating on Edith and the latter Florence Stoney.
The Stoney sisters were remarkable women who deserve to be better remembered and this masterly exposition of their life and achievements were a fine tribute to their important legacy.
Edith the elder sister was born in Dublin in 1869 and Florence in 1870 being members of a distinguished family whose father was an FRS and distinguished physicist and 3 further FRS's amongst the uncles and cousins.
Edith went to Cambridge and went on to become a distinguished medical physicist and became a Physics lecturer at the London School for Women. Florence who could not study medicine at Dublin as they did not admit women and was to qualify from the London School of Medicine for Women in 1895 and proceed to MD in 1898.
In 1902, Florence Stoney started the X-ray work at the Royal Free Hospital and New Hospital for Women (Elizabeth Garrett Anderson Hospital) and was demonstrator in anatomy at the London School of Medicine for Women. In the early days facilities were primitive and Florence often took plates home to be developed. 1n 1907 Dr Harrison Orton was appointed to lead the department at the Royal Free over Florence and this would have been been a great disappointment for Florence at the time.
At the outbreak of WW1 both Edith and Florence volunteered their services to the British Red Cross but was turned down by Sir Frederick Treeves the surgeon famous for the 'Elephant Man'. Undeterred they went on to set up a voluntary 100 bed unit with the Belgian red Cross staffed mainly by women. Later the work was continued in France at Château Tourlaville near Cherbourg. By1915 Florence was working for the War Office and running the radiology department of the 1000 bedded Fulham Military Hospital.
Unfortunately her health deteriorated with dermatitis developing in her hands and after the war she settled in Bournemouth. She went on to become the founder and President of the Wesssex branch of the BIR.
From November 1917 to February 1919 Edith was in charge of the X-ray Departments at the Scottish Women's Hospitals at Royaumont and Villers-Côtterets. She was one of the first to describe the radiographic aspects of gas gangrene and became highly skilled in foreign body localisation.
Following the war she returned to teaching physics and eventually retired to Bournemouth to live with her sister.
Edith died in 1938 six years after Florence who died in 1932.
The story of these two remarkable women was beautifully told and well illustrated with slides and all those who attended were able to learn about these two brilliant, inspiring women who in spite of such difficulties were to become early British pioneers of medical physics and radiology.
BOOK REVIEW
Genes, Flies , Bombs and a Better Life - in the footsteps of Hermann Muller
By Geoff Meggitt
Pitchpole Books 2016 300pages
Reviewed by Dr Arpan K Banerjee Past Chair Brit Soc History of Radiology
Hermann Muller was born in the USA on Dec 21 1890 of German heritage (his grandfather had emigrated from Germany in the mid 1850's ).He studied at Columbia and then taught physiology at Cornell Medical College. His great passion however was genetics and he wanted to do research on Drosophila a field of study initially pioneered by the eminent scientist Thomas Morgan who was awarded the Nobel Prize in 1933 in medicine for his work on chromosomes and heredity. Julian Huxley the eminent biologist found Muller a job at the Rice institute , Houston where he started his pioneering work on mutations. From 1925 onwards he was Professor at Texas teaching genetics.
In 1926 he discovered that radiation (xrays) caused gene mutations. This was to result in the Nobel Prize in Medicine in 1946. Muller was showered with numerous honours. Muller's socialist and communist leanings are well covered in this book. His years of exile in Russia 1934-1937 are described including his fallout over Lysenko and the upsetting of Stalin. He returned to Edinburgh where he helped the career of many Indian scientists before returning to Amherst College USA.
In 1945 he became a Professor of Zoology at Indiana, USA. He published many books including 'The Mechanism of Mendelian Heredity' with Morgan in addition to over 300 original papers.
Meggitt's biography of this fascinating maverick, scientific genius is a thoroughly researched account of a remarkable life and does not shirk from discussing the controversial aspects of his subject's character and beliefs including the subject's communist convictions and belief in eugenics.
In the early days of X-rays people were not aware of its dangers. Muller's legacy is that he showed in experiments that radiation was harmful and caused mutations and this knowledge has helped mankind deal with radiation with all the respect that this field deserves. Muller died in 1967.
NEW
IOMP PROJECT HISTORY OF MEDICAL PHYSICS (SELECTED CHAPTERS)
X-RAY TUBES DEVELOPMENT - IOMP HISTORY OF MEDICAL PHYSICS Rolf Behling
FILM-SCREEN RADIOGRAPHY RECEPTOR DEVELOPMENT: A HISTORICAL PERSPECTIVE Perry Sprawls
HISTORY OF MEDICAL PHYSICS E-LEARNING: INTRODUCTION AND FIRST ACTIVITIES - IOMP HISTORY OF MEDICAL PHYSICS Slavik Tabakov
Review of History of Radiology Session UKRC Radiology Conference 2018, 2
nd
July, Liverpool.
Reviewed by Dr Arpan K Banerjee, Past Chairman British Society for the History of Radiology
This year's annual congress returned to Liverpool and again the British Society for the History of Radiology organised a successful session of talks attended by a wide range of delegates.
Opening the session with Liz Beckman in the Chair was Francis Duck who spoke on the early British radiologist William Hampson (1854-1925). Hampson trained in medicine at St Bartholomew's Hospital, London qualifying in 1896. He lectured in Physics for a short time at University College and became a specialist in medical electricity to the Children's Hospital in Bethnal Green in 1910. He published a paper in Nature on refrigeration and also wrote on foreign body localisation. In 1905 he published a book titled 'Radium Explained'. Hampson was a socialist who in 1907 wrote 'Modern Thraldom;a new social gospel' laying out his views on how education and healthcare should be looked after by the state a a vision that was to be realised long after his death in 1948 with the birth of the NHS.
The second talk by Francis Duck was titled British Mobile X-ray units in World War 1. Fund raising by institutions as diverse as the Hull Royal Infirmary and Cheltenham Ladies College and the Red Cross were key to the success of this project. The units were deployed in France, Salonika and Mesopotamia and the difficulties involved in their operations were described.
Dr Arpan K Banerjee spoke on 'The sixtieth anniversary of Ian Donald's classic paper on ultrasound'. Donald trained in medicine at St Thomas's Hospital and being interested in obstetrics rose through the ranks working at the Hammersmith hospital before being appointed Chair of Midwifery in Glasgow. His collaboration with Tom Brown of the engineering firm Kelvin Hughes led to the first images from the ultrasound machine published in the Lancet in the classic paper in 1958. Donald was showered with honours. The practice of modern medicine was changed with this discovery which today plays a part not only in obstetrics but also a wide range of surgical and medical practice.
The next lecture also by Dr Arpan K Banerjee on 'Eponymous signs in plain film reporting — who were the eponymists ?' concentrated on the famous people who had given their names to radiological signs on the Chest X-ray. A brief overview of the lives of Peter Kerley , Ben Felson, Pancoast, Fleischner, Westermark and others were presented along with the illustrations of their signs and contributions. Adrian Thomas with Mark Kynaston presented a poster exhibit on 'Dawson Turner and the development of Radiotherapy'. Dawson Turner who trained in medicine in Scotland and subsequently became physician in charge of the X-ray department at Edinburgh Royal Infirmary was one of the earliest doctors to treat lymphosarcoma by radiation in 1913. He died a radiation martyr having lost the fingers of his left hand to radiation.
Adrian Thomas with Mark Kynaston also presented an electronic poster on 'Electrotherapy and the origins of radiotherapy' . The early work in this field in Glasgow and Edinburgh was presented in this poster.
The BSHR stand this year hosted an exhibition on the life of Ian Donald to complement the talk held in the session. Thanks to the BMUS archive for loaning the posters.
The 2019 BSHR Annual Lecture
Godfrey Hounsf
ie
ld
-
In
v
entor o
f
the
C
T
Scann
e
r
Centenary of his birth
Personal memories and reflections
Liz Beckmann and Stephen Golding
18th February 2019 at 7 pm
Governors' Hall, St Thomas' Hospital, Westminster Bridge Road,
London SE1 7EH
Godfrey Hounsfield proved that the boy from the farm could do anything. With limited formal education, working with restricted resources and with limited support he proved the concept that became the CT scanner. Little could he have dreamt of the impact that this would have on medicine in the 2nd half of the 20th century.
This is the story of a gentle genius from his childhood on a farm to the impact of his invention, the CT scanner, on the world of medical diagnosis and patient management.
Admission is free but tickets are required for entry. Please contact Dr Arpan K Banerjee at arpankb007@gmail.com by February 12th 2019.

A retiring collection will be taken with a suggested donation of £5.
An A4 poster is available by clicking here