The British Society for the History of Medicine Biennial Congress
Diamond Building – The University of Sheffield
Wednesday 15th - Saturday 18th September 2021
Key themes
History of Medicine in the Workplace
History of Pandemics
History of Nursing
Innovation in Medical Engineering
Abstract submissions on these themes and General Topics are welcome. The closing date for receipt of abstracts is the 31st May 2021. If research has been delayed owing to restricted access to libraries, archives or other resources, this may be stated in abstract submissions where relevant.
For Congress information and booklet, registration, abstract submission and accommodation please go to https://bshm.org.uk/congress-2021/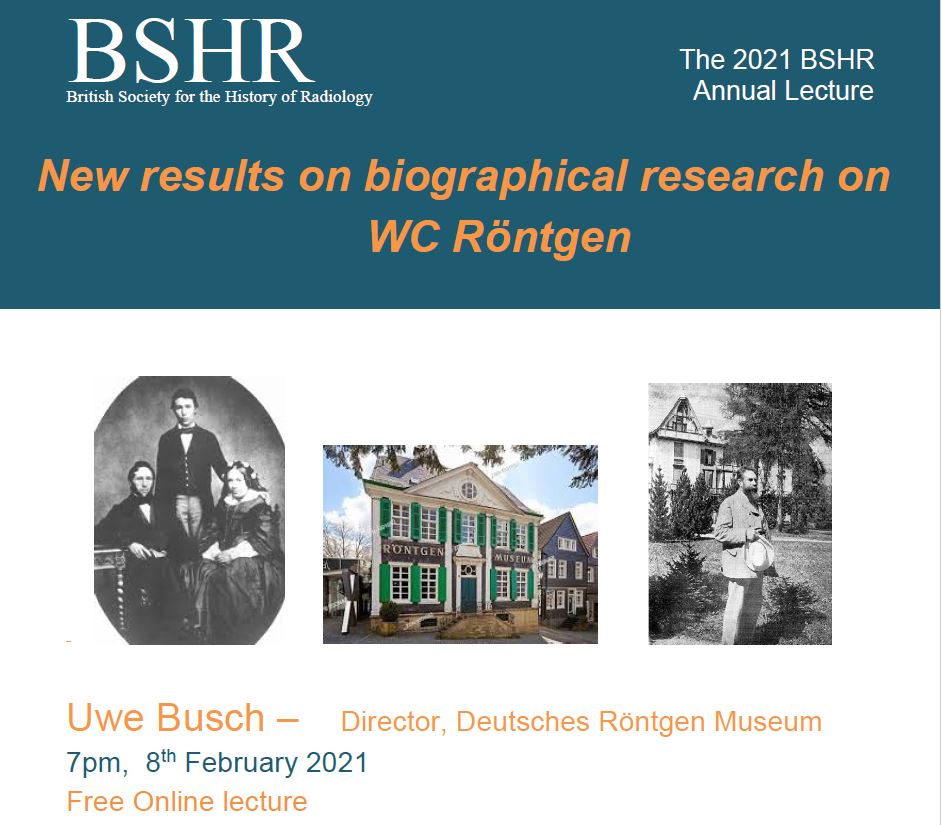 The video of the complete lecture is now available on Youtube. Click here to watch.
Report on the British Society for the History of Radiology Annual lecture 2021
By Dr Arpan K Banerjee Past Chair and current trustee BSHR
Due to the current Covid pandemic this year's annual lecture was delivered as a virtual event on Monday 8 Feb 2021. Dr Uwe Busch a distinguished radiology historian , author and the current director of the Rontgen Museum in Remscheid – Lennep , Germany delivered a talk entitled 'New results on biographical research on W C Rontgen' .
The first half of the talk was devoted to the Rontgen family tree and we learnt about his ancestors who were successful cloth merchants. Lennep was a small town whose history goes back to the 12 th century and many were farmers in this Bergishland region and then worked in the cloth trade before industrialisation occurred. We were given a detailed review of Rontgen's lineage. Rontgen was born in the house bought by his grandfather which today has been preserved for posterity.
In the second half of the talk research from Rontgen's estate and collections in the Rontgen museum were presented. Rontgen left behind over 1800 letters and documents as well as around 2000 glass plates. Of particular interest was his first paper on X-Rays and the people he sent this paper to which included the great and the good of the physicists of his era. In the UK, Arthur Schuster from Manchester and Lord Rayleigh and J J Thompson ( discoverer of the electron ) at Cambridge and Lord Kelvin in Glasgow were all on his list of recipients.
This section of the talk also covered his marriage to Bertha and included illustrations from Rontgen's extensive photograph collection. Photography was a major hobby of Rontgen's and the pictures of old Wurzburg which were shown to the audience were a wonderful evocation of what the place was like in his era.
The lecture was well received by the virtual on line audience and Dr Busch was thanked for his wonderful, scholarly informative presentation.
X-RAYS TO EXILE: ARTHUR SCHÜLLER
 This 30-minute video describes the medical career of Arthur Schüller as well as the lives of his family members.
Schüller was born in 1874 and the  arc of his life mirrored the rise and decline of Austria from 1870 till 1955. The Schüller family origins lie in Bucovice and Brunn but his early medical career was spent in Berlin and at the AKH in Vienna.
In 1906 he married Margarete Stiassni, daughter of a wealthy Brunn industrialist. In spite of severe financial constraints on the Medical School after World War I , Arthur was closely involved in the successful graduate courses for foreign doctors who came to  learn from those who had been leading figures in establishing Vienna's pre-eminent international position in medical science. By the 1930's Schüller was well known internationally and he travelled to conferences world wide. .
As a Jew  he was expelled from the University in 1938. His search for a home elsewhere involved fellow scholars in the USA, UK and Australia . After a  spell in Oxford  he settled in Australia with eventually at post at St Vincent's Hospital in Melbourne.
The Schüllers' two sons had died in Nazi camps  and this appears to  have provoked  Arthur's later decline into withdrawal and depression. He and Margarete lived  in Heidelberg, a suburb of Melbourne, until his death in 1957.
His contribution to medical science - pioneering three surgical procedures and identifying three neurological diseases –  led to him being seen as the father of the discipline of neuro-radiology. His two seminal books established this field.
The link to the video is https://youtu.be/YhRLobn-Ubw